Birds Classroom
Important first steps towards a lifetime of success. Children receive extra attention and lots of loving care at this age as they build new relationships and develop a lifetime love of learning. 
For our youngest learners: 18-35 months old.
Teacher to Student ratio is 1:6.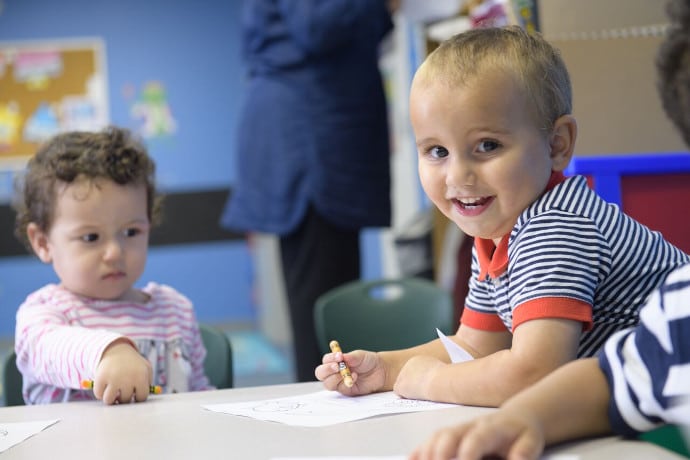 OBJECTIVES
Course Objectives & Outcomes
Learning Skills & Numeracy
Young children enjoy making marks, looking at picture books, and listening to stories, all important steps in literacy.
Cognitive & Physical Development
Teachers monitor development per the CDC Developmental Milestones and help foster age-appropriate skill-building.
Social/Emotional Connection
Children learn taking turns and build confidence through developing social skills and structured activities.
Language & Speech Development
Children are immersed in Arabic and English instruction using the Total Physical Response (TPR) method.
Expressive Art and Design
Engaging Arts & Crafts projects encourage creative expression and exploration.
Understanding the World
We believe children learn best using a hands-on approach and always try to connect lessons with the world around us.
CLASSES
Create your own schedule...
Full Time: 5 days/week
For optimal learning and academic preparation, the full time schedule is recommended. From 9am - 4pm.  Early care (7-9am) and Extended care (4-7pm) are available, if needed.
Part time: 3 or 4 days/week 
Our midway package offers more learning time than the half day program, but is not quite a full-time schedule. Select 3 to 4 days/week to attend from 9am to 4pm.
Half Day Program 
If you are looking to slowly enter into a school setting, this is the program for you. Choose between Mornings (9am to 12:30pm) or Afternoons (1:30pm to 4:30pm) for 3 to 5 days/week.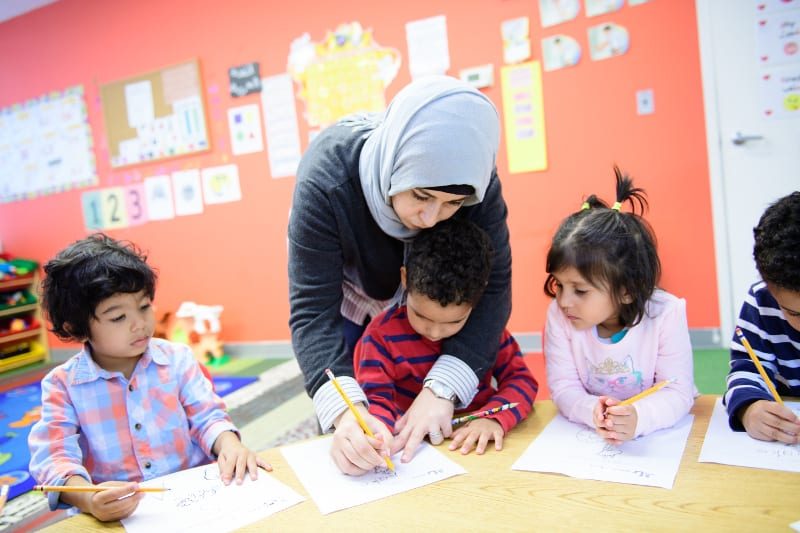 Language Immersion
Kids listen to instructions in Arabic & English, learning the alphabet, vocabulary, and common expressions. We structure dramatic play, games, arts & crafts, gymnastics, and sport activities.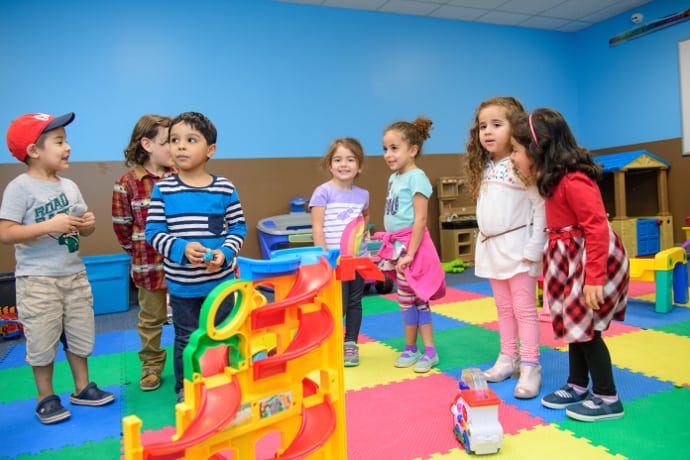 Hands-on Approach
Children learn better by doing, and by doing things with others to guide them, rather than just being told. We are very hands-on and use differential learning approaches to target all learning styles.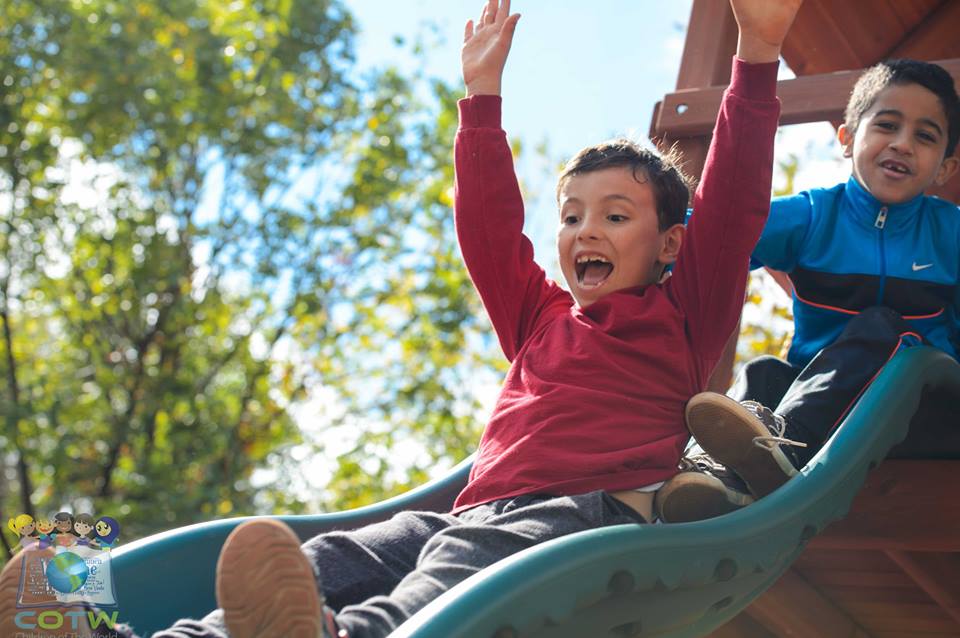 Islamic Studies
At COTW we aim to develop Islamic awareness, manners, and culture among students, encouraging them to be committed to Islamic values and the ethics of the Prophet Mohammed, PBUH.
"Seek Knowledge From The Cradle To The Grave."
Established for Over 10 Years
Years of glowing customer testimonials attest that our program is a well-established success.
Over 5,250 Graduates
COTW has successfully prepared thousands of children for the next steps in their academic career.
Convenient Location
Our location near the intersection of Rt. 28 and 50 is easily accessible and close to shopping, restaurants, and a wealth of after school extra-curricular activities.
Teacher/Student Ratio
Our goal is as much individualized attention as possible. For this, we choose quality over quantity and keep our classrooms small.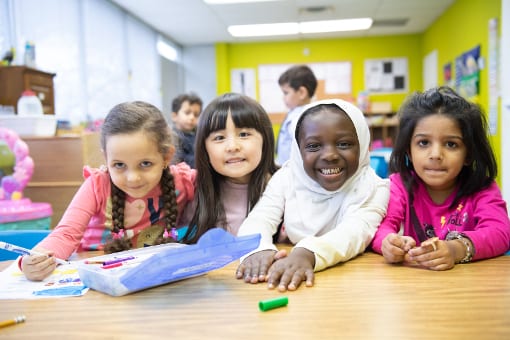 Apply Today!
Classes are filling up fast - don't miss out.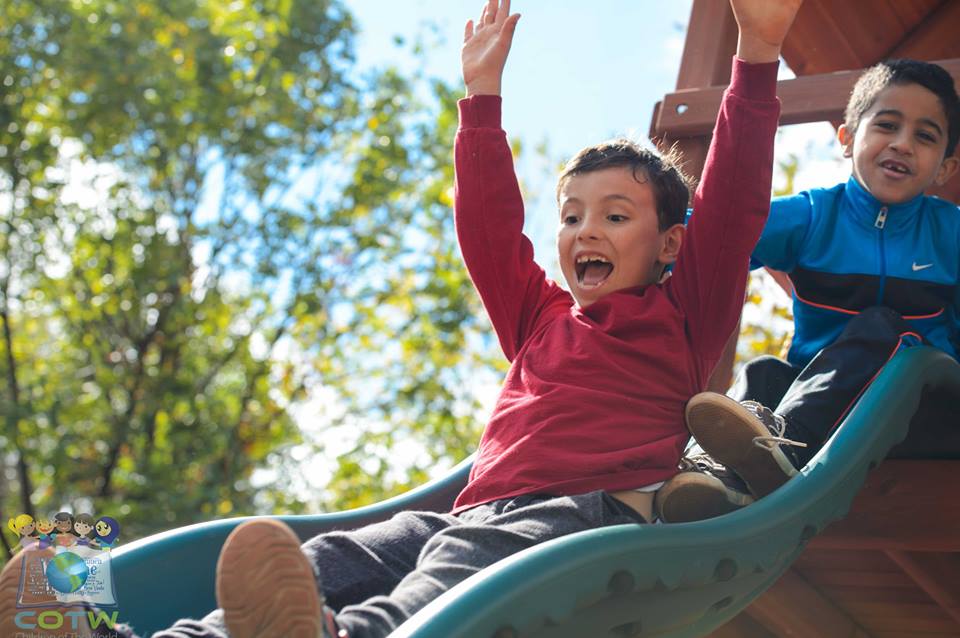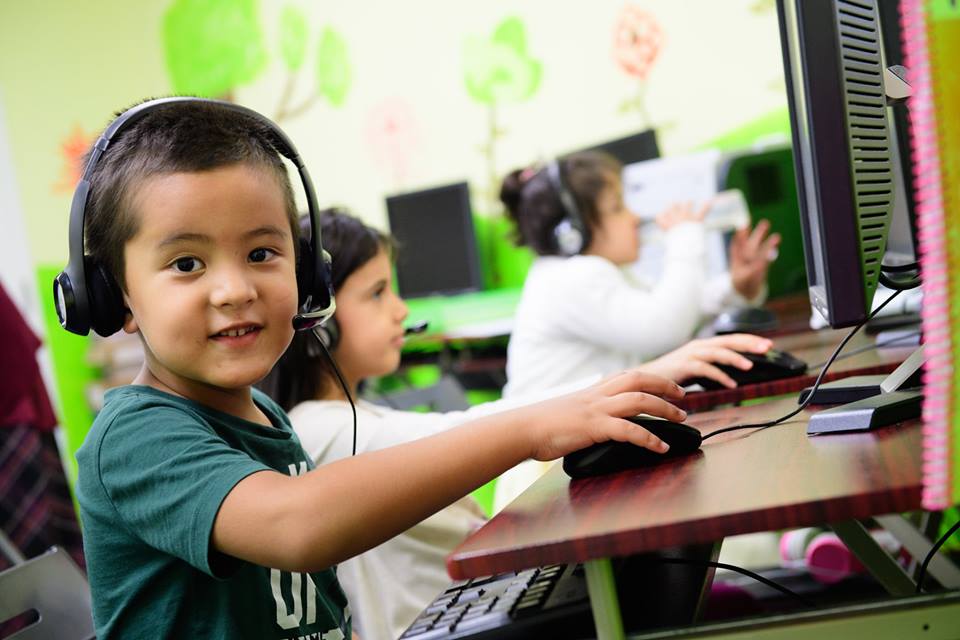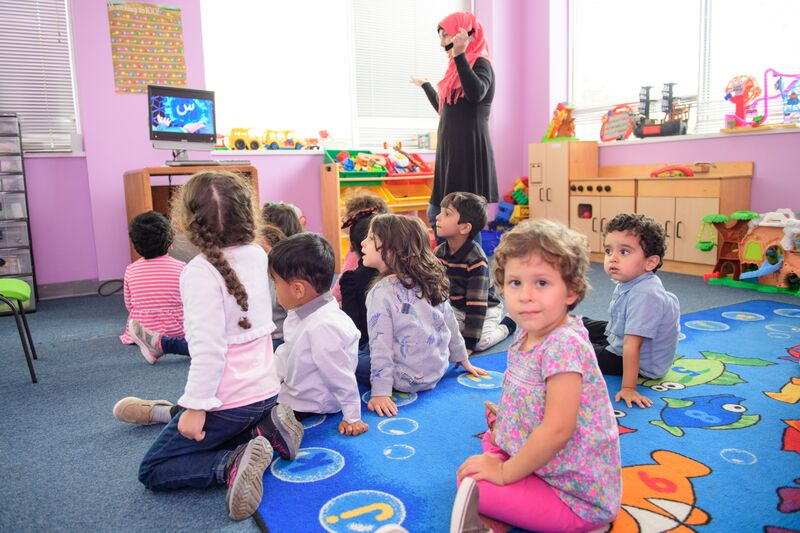 Meet
Our Teachers & Staff
The Heart of our school
Our teachers are experienced, love working with children, knowledgeable about their subject area, and undergo a thorough background investigation to ensure your child is in great hands!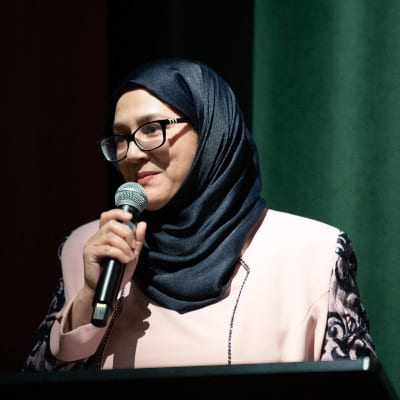 Hakima Elamiri
Founder & Program Director
More About Ms. Hakima
Ms. Hakima has an MBA, a B.A. in Business Administration, and an Associate's Degree in Early Childhood Education. She is certified in: Autism Spectrum Disorders, ADHA Diagnosis & Treatment, Developing Healthy Habits in Young Children, Infant & Toddler Development, and Ages & Stages of Development for Infants & Toddlers. Currently, she is working towards her Ph.D. in Curriculum & Instruction and expects to finish in 2021.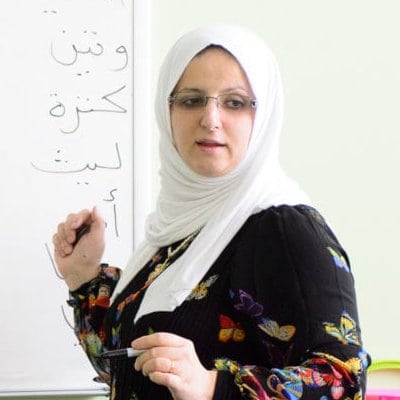 Farah Suleiman Alany
Substitute Teacher
More About Ms. Farah
Ms. Farah has a B.A. degree in Early Childhood Education and received specialized training in Phonics Instruction, the KWL Technique, Visual Tools for Teaching Young Children, and Children & Technology. She has organized a number of special learning events  re Adapting Teaching for Children with Special Needs. She has received numerous teaching awards, including Teacher of the Year 2009 and 2010, and Best Teacher for Achieving Curriculum Goals.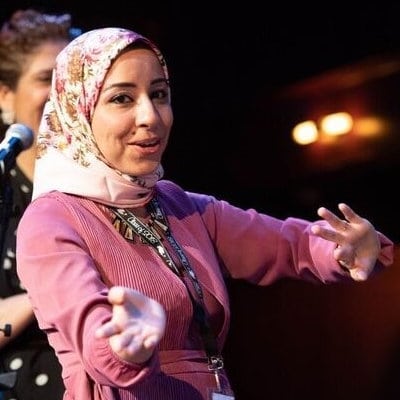 Khadija Touloub
Assistant Teacher: Birds
More About Ms. Khadija
Ms. Khadija is a creative, fun, and dedicated teacher. She came to us from Morocco and is fluent in Arabic, French, and English. She has a B.A. degree and worked as a teacher's assistant for several years. She focuses on the strengths and developmental opportunities of each of her students, working to meet the unique learning needs of all her pupils.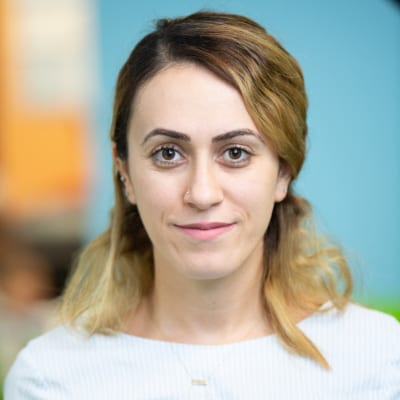 Mehtap Erol
Lead Teacher: Birds
More About Ms. Mehtap
Ms. Mehtap  is from Turkey and speaks Turkish English, and basic German. She always comes up with fun and innovative ideas for projects in our 2.5 year old class and implements them with great patience and skill. Previously she worked as a teacher in the German Embassy of Turkey. She has two certificates in Early Childhood Education and a Social Services Certificate working with youth. She brings a wealth of experience to our center working with children in different capacities.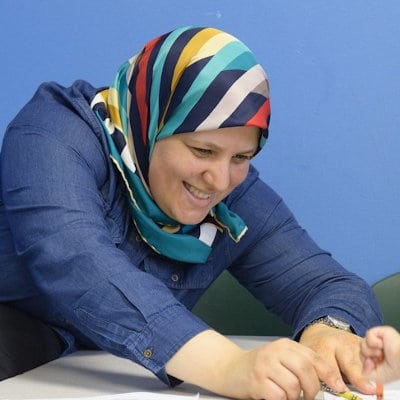 Nadia Khettab
Assistant Teacher: Sprouts
More About Ms. Nadia
Ms. Nadia is from Morocco and teaches our two year olds. She loves working with children! She has many years of experience in early childhood development and teaching, and speaks three languages: English, Arabic, and French. She studied Biology in college and has an additional  certification in nurse assistant. She enjoys preparing students for their academic career and watching them learn and grow.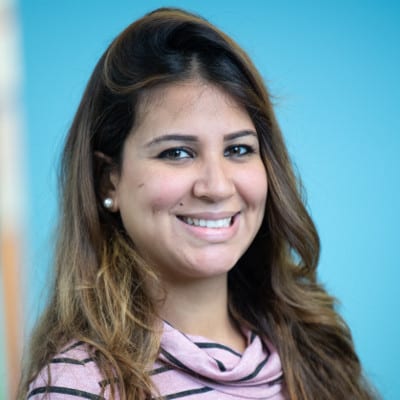 Soukina Ounejma
Operations Manager
More About Ms. Soukina
Soukina oversees our school operations and various programs at COTW. She has extensive experience with customer service and a certificate in Accounting. She previously worked as in the public school system. She is from Morocco and speaks fluent Arabic, French, and English.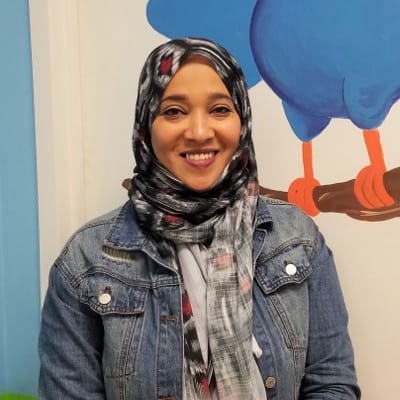 More About Ms. Dalia
Ms. Dalia is originally from Sudan and keeps everyone organized by assisting with mealtimes, cleanup, and diaper duty.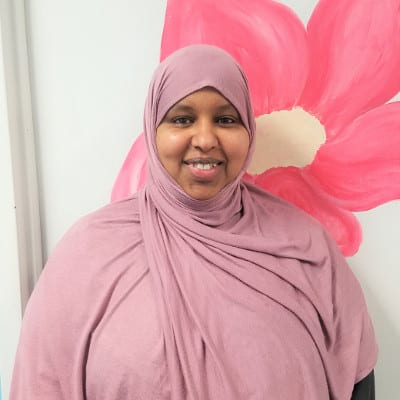 More About Ms. Deeqa
Ms. Deeqa is originally from Somalia and keeps everyone organized by assisting with mealtimes, cleanup, and diaper duty.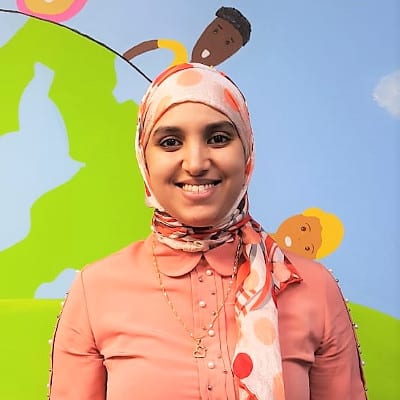 Ibtissam Lfarh
Lead Teacher: K-12
More About Ms. Ibtissam
Ms. Ibtissam teaches our K-12 students. She holds a B.A. in English Literature and is currently working on her Masters Degree in Education. She has been teaching for five years. She previously worked as an English/Arabic Interpreter and an Arabic tutor. She is originally from Morocco and speaks fluent English, French and Arabic.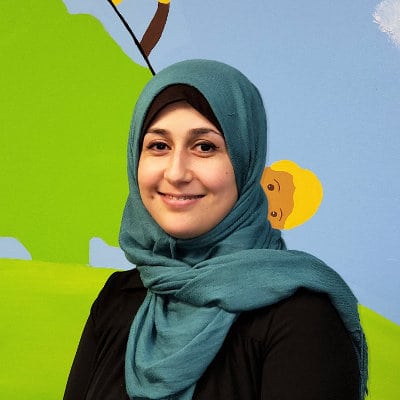 Karima Hamdani
Lead Teacher: Sprouts Classroom
More About Ms. Karima
Ms. Karima teaches our 3 year olds. She has been teaching for four years years and is currently working on her Masters Degree. She has an Associates Degree in Childhood Development and a B.A. in Translation.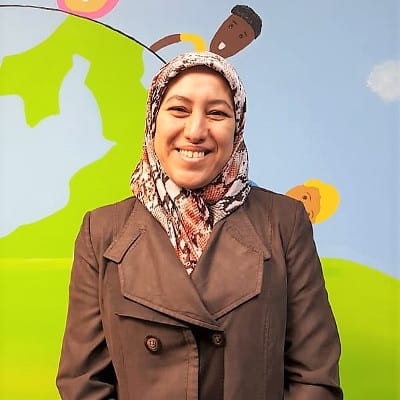 Hayat Belattaria
Lead Teacher (Arabic): Blossoms & Flowers
More About Ms. Hayat
Ms. Hayat is from Morocco and teaches Arabic to our 4 and 5 year olds. She has a B.A. degree in Arabic and taught for 10 years before joining us. 
Reem Elsaftawy
Lead Teacher (English): Blossoms & Flowers
More About Ms. Reem
Ms. Reem teaches our 4 and 5 year olds and is originally from Egypt. She has a Bachelor's and Master's Degree in Phonetics & Linguistics. She previously worked as an Instructor and Translator.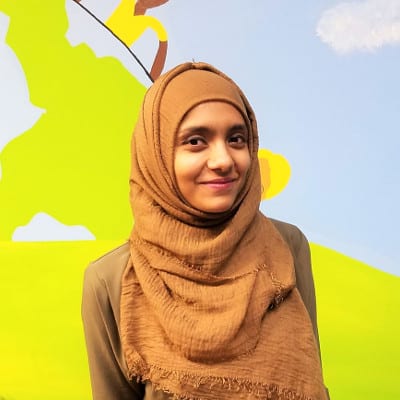 Tasbita Reham
Lead Teacher: K-12 Classroom
More about Ms. Tasbita
Ms. Tasbita is from Bangladash and has M.S. and B.A. Degrees in Economics. She has taught at the University level as well as second grade. She speaks English, Bangla, and Hindi fluently.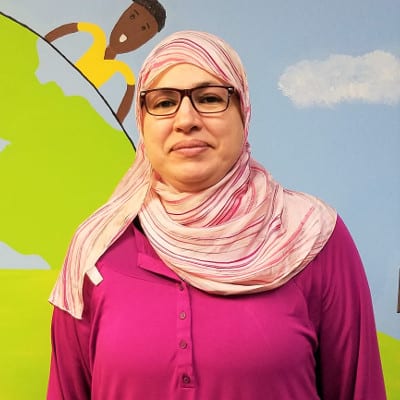 Bouchra Elamiri
Assistant Teacher: Birds Classroom
More about Ms. Bouchra
Ms. Bouchra joins us from Morocco. She has an Associate's Degree in French Literature.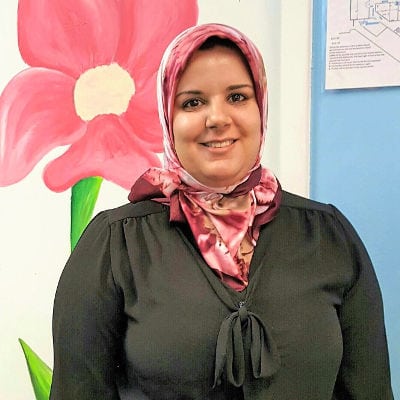 More About Ms. Sara
Ms. Sara is from Morocco and keeps everyone organized by assisting with mealtimes, cleanup, and diaper duty. 
School owner loves her job, it is not about money it is about kids future which is really important to me as a parent. She knows every single kid in her school and what they need to work on in order to succeed. Definitely hiring the right people to help with her mission is another PLUS. Wishing all the team lot of success. I will not hesitate to recommend the school to other parents. My kid is in k-12, Ms. Hakima is her COTW coach.
fadoua Boualem
14:35 03 Jul 18
This school is the best . We know the school since it's opening. Our youngest daughter went here for preK and other older daughters went for Sunday program. All we can say they are awesome , kind, and flexible. They teach Islamic , Arabic and English. My kids love this school so I am. Thank you COTW.
My 3 nephews and niece have been attending this school for years now. They learn new things everyday. I sometimes go over some things with them and they amaze me at what they are learning. I attended each of their preK graduation. It was amazing. I have a 4 month old and a toddler that I can not wait to enroll. Great job.
Sara Mezi
00:33 29 Jun 18
I give the COTW a five star I love the peace of mind when I drop off my 3.5 yo daughter every morning. I know my little girl is in good hands. From the owner Ms.Hakima to the Teachers who are extremely dedicated, caring and very kind. The staff is very approachable and very kind as well. They are my second family. I see a lot of progress that my 3.5 yo has made over the last 8 months both socially and academically.
khalida harrif
23:01 11 Jun 18
I love the peace of mind every morning dropping my girls off that they are in the best school. Teachers are very dedicated and caring, the curriculum is top notch, and Ms. Hakima's style of education brings out the best in kids, allowing them to reach their full potential and even beyond. I'm amazed how much progress my kids have made both socially and academically over the last year. The facilities are warm and welcoming, and there is a perfect equilibrium between learning and fun activities to keep the students captivated and motivated. There is a nice community feeling between parents and the staff are approachable and personable. My girls have made many new amazing friends here, and so have I, as well.
FAQ
Frequently Asked Questions
Are Islamic studies mandatory?
No. We have non-Muslim families who attend who enjoy all of the benefits of language immersion, socialization, and academia without the religious component.
What is the feeding & napping schedule?
Children under 4 years old have naps right after lunch. The Birds eat at 11:45 and nap at 12:05, the Sprouts eat at 12:15 and nap at 12:35. The Blossoms and Flowers eat at 12:45 and have "quiet time" at 1:05. K-12 students eat at 1:15pm.
How are meals and snacks handled?
Parents may bring lunch and snacks (am & pm) from home or may elect to use our meal plan, which is $7.50/day and includes lunch and two snacks.
How can I stay informed?
COTW regularly sends pictures to the parents of all the students engaging in their class and recess activities. We also distribute a biweekly newsletter and encourage parents to be involved and collaborate with us. Follow us on Facebook, and subscribe to our WhatsApp groups.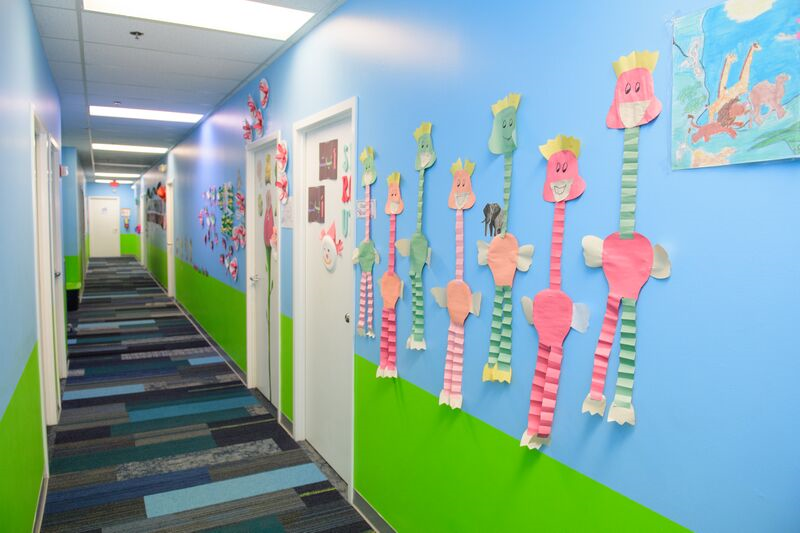 Apply Today!
Classes are filling up fast - don't miss out. 
Get In Touch
Location: 4451 Brookfield Corporate Dr.,
Suite# 201, Chantilly, VA 20151
Telephone: (703) 956-6266 or (703) 283-9553
Email: administration@cotwschool.com
School Hours:
M-F: 7am - 7pm
Sun: 10am - 3pm
Non-Discrimination Policy
All children are welcome at Children of the World. Our Center does not discriminate on the basis of race, disability, sex, color, creed, or national origin.