Welcome to Children Of The World!
Admission & Enrollment
Registration
How To Register Your Child for a Class
Pricing depends on your child's age, schedule, and other considerations (i.e., if potty-trained or not napping). We can give you an accurate quote after assessing your needs in-person when you come for a tour. 
Mail For Inquiry
administration@cotwschool.com
01.
Call, email, or submit the below form to schedule a tour with our admissions coordinator who will show you around our beautiful school and answer all of your questions. 
02.
 Complete the enrollment paperwork and select your start date, schedule, and meal plan, if applicable. 
03.
Smile and relax because you have made an excellent choice!
Schedule a Tour to Learn More!
We Will Contact You WithIn Two Business Days
Established for Over 10 Years
Years of glowing customer testimonials attest that our program is a well-established success.
Over 5,250 Graduates
COTW has successfully prepared thousands of children for the next steps in their academic career.
Convenient Location
Our location near the intersection of Rt. 28 and 50 is easily accessible and close to shopping, restaurants, and a wealth of after school extra-curricular activities.
Teacher/Student Ratio
Our goal is as much individualized attention as possible. For this, we choose quality over quantity and keep our classrooms small.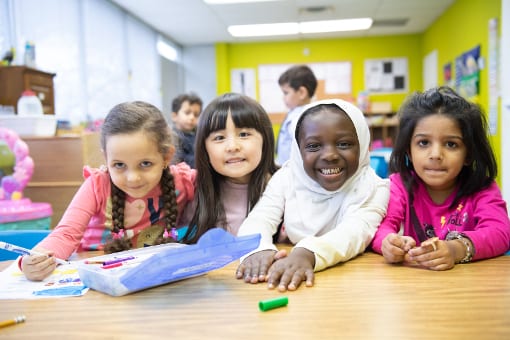 School owner loves her job, it is not about money it is about kids future which is really important to me as a parent. She knows every single kid in her school and what they need to work on in order to succeed. Definitely hiring the right people to help with her mission is another PLUS. Wishing all the team lot of success. I will not hesitate to recommend the school to other parents. My kid is in k-12, Ms. Hakima is her COTW coach.
fadoua Boualem
14:35 03 Jul 18
This school is the best . We know the school since it's opening. Our youngest daughter went here for preK and other older daughters went for Sunday program. All we can say they are awesome , kind, and flexible. They teach Islamic , Arabic and English. My kids love this school so I am. Thank you COTW.
My 3 nephews and niece have been attending this school for years now. They learn new things everyday. I sometimes go over some things with them and they amaze me at what they are learning. I attended each of their preK graduation. It was amazing. I have a 4 month old and a toddler that I can not wait to enroll. Great job.
Sara Mezi
00:33 29 Jun 18
I give the COTW a five star I love the peace of mind when I drop off my 3.5 yo daughter every morning. I know my little girl is in good hands. From the owner Ms.Hakima to the Teachers who are extremely dedicated, caring and very kind. The staff is very approachable and very kind as well. They are my second family. I see a lot of progress that my 3.5 yo has made over the last 8 months both socially and academically.
khalida harrif
23:01 11 Jun 18
I love the peace of mind every morning dropping my girls off that they are in the best school. Teachers are very dedicated and caring, the curriculum is top notch, and Ms. Hakima's style of education brings out the best in kids, allowing them to reach their full potential and even beyond. I'm amazed how much progress my kids have made both socially and academically over the last year. The facilities are warm and welcoming, and there is a perfect equilibrium between learning and fun activities to keep the students captivated and motivated. There is a nice community feeling between parents and the staff are approachable and personable. My girls have made many new amazing friends here, and so have I, as well.
Get In Touch
Location: 4451 Brookfield Corporate Dr.,
Suite# 201, Chantilly, VA 20151
Telephone: (703) 956-6266 or (703) 283-9553
Email: administration@cotwschool.com
School Hours:
M-F: 7am - 7pm
Sun: 10am - 3pm
Non-Discrimination Policy
All children are welcome at Children of the World. Our Center does not discriminate on the basis of race, disability, sex, color, creed, or national origin.