Welcome to Children Of The World!
Admission & Enrollment
Registration
How To Register Your Child for a Class
Pricing depends on your child's age, schedule, and other considerations (i.e., if potty-trained or not napping). We can give you an accurate quote after assessing your needs in-person when you come for a tour. 
Mail For Inquiry
administration@cotwschool.com
01.
Call, email, or submit the below form to schedule a tour with our admissions coordinator who will show you around our beautiful school and answer all of your questions. 
02.
 Complete the enrollment paperwork and select your start date, schedule, and meal plan, if applicable. 
03.
Smile and relax because you have made an excellent choice!
Schedule a Tour to Learn More!
We Will Contact You WithIn Two Business Days
Established for Over 10 Years
Years of glowing customer testimonials attest that our program is a well-established success.
Over 5,250 Graduates
COTW has successfully prepared thousands of children for the next steps in their academic career.
Convenient Location
Our location near the intersection of Rt. 28 and 50 is easily accessible and close to shopping, restaurants, and a wealth of after school extra-curricular activities.
Teacher/Student Ratio
Our goal is as much individualized attention as possible. For this, we choose quality over quantity and keep our classrooms small.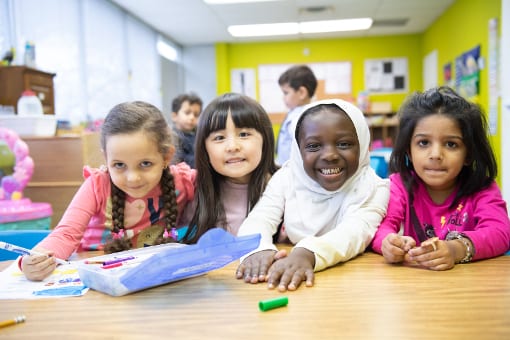 This school is wonderful. Do not hesitate to send your kids here. The staff is filled with highly caring individuals and people who you can trust. Communication is excellent with teachers and management. My son has learned a ton just in the past few months from being there! Thank you Children of the World for all you do!
My three kids started there this year , and can't say enough good things about this facility. They are so caring, well organized, they also provide lunch there per your request, and my kids love it. When I go pick them up they always ask me if they can stay a little longer even after a full day. I highly recommend Children of the World, if you're looking for a quality and caring child care for your kids.
There are SO MANY good things to say about this school. The teachers treat the children like family and take care of of them so well. We switched daycare to come here and finally my children are so happy and my heart is at ease during the day.
Get In Touch
Location: 4451 Brookfield Corporate Dr.,
Suite# 201, Chantilly, VA 20151
Telephone: (703) 956-6266 or (703) 283-9553
Email: administration@cotwschool.com
School Hours:
M-F: 7am - 7pm
Sun: 10am - 3pm
Non-Discrimination Policy
All children are welcome at Children of the World. Our Center does not discriminate on the basis of race, disability, sex, color, creed, or national origin.